Some of the Client Settings can be controlled from Server, so that they will be managed in a central location.
In Server Manager > Configuration > Client Settings, Click "…" .
Client Settings window opens: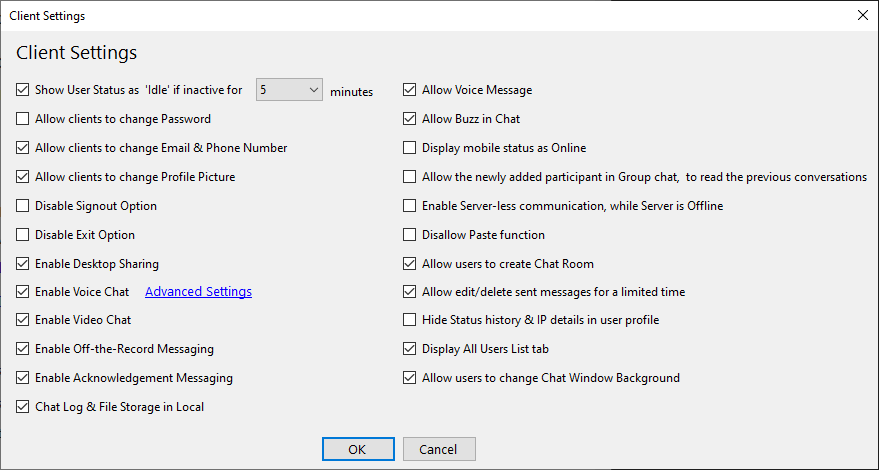 These settings will be applied for ALL clients, including Administrator & Managers.
Show User Status as 'Idle'
Enabling this setting will override the Client "idle" timer setting, so that for entire office same idle interval will be applied.
Allow Clients to change Password
By default, Password of a user can be defined only in Server Manager. Enabling this setting will allow the users to override their password directly in Client.
Allow Clients to change Phone number
Enabling this options will allow the users to update their Phone Number from Client Settings.
Allow Clients to change Profile Picture
Enabling this option will helps your user to modify their profile pictures.
Disable Signout Option
This option will hide "Sign out" for Client users.
Enable Desktop Sharing
Enable Desktop Sharing allows your client users to access remote desktops. Otherwise, hides desktop sharing

icon.
Enable Voice Chat
"Enable Voice Chat", lets your client users to do voice chat, if not means, hide the voice Chat
icon.
Enable Video Chat
"Enable Video chat" permits your users to perform video chat and disabling it will hide the video chat
icon for client users.
Note: By Stopping Output Messenger VoIP Service, you can also block Desktop Sharing, Voice & Video communication.
Enable Off-the-Record Messaging
Enabling this option will allow OTR Messaging option for Administrator & Managers. For more details on OTR messaging, click here.
Enable Acknowledgement Messaging
Enabling this option allow your client to send and receive Acknowledgement for their messages. Click here for more details
Allow Buzz in chat
Allowing Buzz in chat, will enables your client to grap the attention of the receiver while chatting. Orelse, it will be hidden to clients.
Display Mobile Status as Online
This option will set the status of the mobile users(Output Messenger – mobile users) to online, eventhough they are offline.
New Participants to read previous conversation in Group Chat
This option will display the previous conversation (the conversation that was done before the user was added to chat) in the Group Chat to the new user.
Enable Server-less communication When the Server is Offline
It will allow chat sessions in client side, even if your server goes down or offline.
Disallow Paste Function
Enabling this option will restrict users to paste anywhere in their chat.
Allow users to create Chat Room
Enable this option to permit your users to create chat room. Else, users can't create Chat Room from client side.
Allow edit/delete sent messages for a limited time
This option will allow your user to edit or delete their message at any time.
Else, users can edit/delete within 2 minutes from the time they sent.
Hide Status history & IP details in user profile
This Client Setting assists to hide the Status History and IP details of the Users from their User Profile window
Display All Users List tab
This Client Setting helps to control the Display of All Users tab from your Users' Messenger