Chat Room allow persistent conversations between members. Any user can create a chat room in client, who will be considered as the Admin and can manage the members of the room. An Admin role member can grant chat room Admin rights to other users. The entire chat room history is available for all the members. From Server Manager, all the chat rooms can be centrally managed.
Operation to Perform
Adding new Chat room.
Editing an existing Chat room.
Deleting a Chat room.
View Chat room log.
Adding a Chat room
Right click the Chat rooms listing page, click New Chat Room.


Enter the name of the Chat Room. To add members : Select the users on the left side and click
. To remove existing members, select from right side and click
. To define a member as Admin, right click the user in selected users list, click Set Admin Role. Click Ok, once you are done. The newly added Chat Room will be displayed in Output Messenger client below the Offline Users in users list.
By default, users can exit from Chat Room, if they want. To prevent users from exiting Chat Room, you can uncheck "Allow user to leave room".
Editing an existing Chat Room
In the chat room listing grid, right click the chat room name, click Edit Chat Room to do the needed changes in Chat Room. For example, to Change Admin Role of members: Right click the existing Admin member, click Remove Admin Role. Select another member, right click > Set Admin Role. Click Ok to apply the changes.
Deleting a Chat Room
A Chat Room can be deleted only from Server Manager. In Clients, users can remove/unsubscribe them from a Chat Room, but the Chat Room will not be deleted from Server. When a Chat Room is deleted from server, the entire Chat Room history will also be deleted & cannot be restored. To delete a Chat Room, in chat room listing grid, right click a chat room, Click Delete Chat Room.
View Chat Room log
In the chat room listing grid, right click the chat room, click View Log. Chat Room View Log window will be displayed with current date log. Update the filter dates to view for the required period.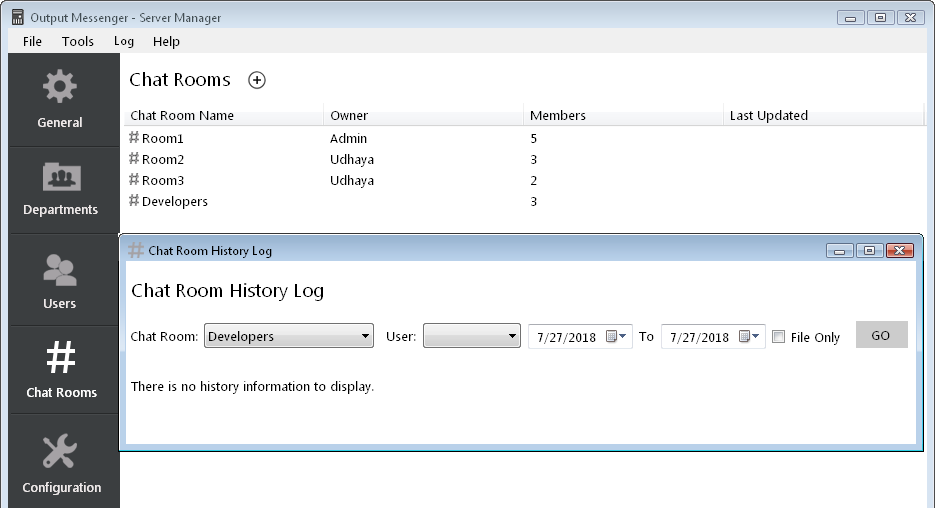 ---
RELATED TOPICS