One to One chat offers a real-time transmission of text messages from sender to receiver or vice-versa.
Chat with members
Double Click the user or Right click > chat to chat with your colleagues. Chat window will appears. You can customize your Messaging window.
Instant Messaging window
Output Messenger offers attractive features, On mouse hover the → icon, the some additional features are also displayed:


The following features are available on the Chat window.
Emoticons  : to express your emotions.
Voice Chat  : to speak with your partner through voice chat.
Confidential chat  : share the messages/files

a

dministrators becomes confidential and no record of the same will be kept anywhere.

Note:

Confidential chat will be available only to administrators and cannot be used by employees.

Preset messages  : Using shortcut, you can convey your message to receiver shortly.
Buzz : Grabs the attention of the receiver, to your chat.
Font  : to change the font, size, color and the appearance of the text.
Request Acknowledgement : Improve the Messages delivery reliability through Request Acknowledgment option.
Send files  : to transfer the files between the users.
Remote desktop : to view the desktop for the user.
Video Chat   : to enable video chart.
Press the Enter key to send your message to corresponding recipient.
Edit options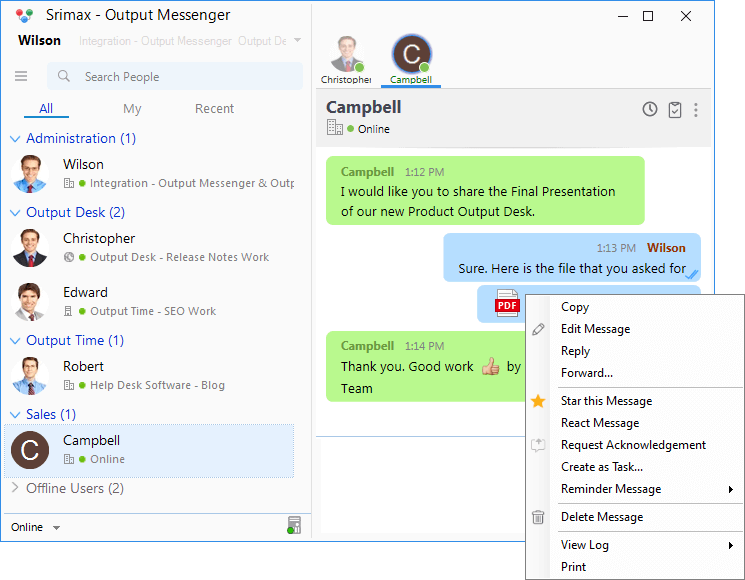 Copy –  copy the recent message and paste anywhere.
Send Clipboard Image – Assists you to send the latest taken screenshot to your colleague.
Star this Message – You can bookmarks theimportant message .
Edit Message – able to edit the message and send to receiver again.
Delete Message – delete the unwanted particular message.
Reply – Helps you to Reply to a particular message, both in a Group Chat and in an Individual Chat.

To send Reply Message :
Right Click on the message to which you want to respond and click "Reply Message".
Then provide the reply message and hit "Enter".

Forward – Forward the messages to a particular team member or a group of your team members.

To forward a message :
Right Click on the message to be forwarded and hit Forward Message.
Choose Users / Group, then click Send icon.
You can provide your messages before sending message.

Request Acknowledgement – Improve the Messages delivery reliability through Request Acknowledgment option.
View log – view the history of the chat.
Print – print the message.
"[Your message has been saved on the server as offline.

Recipient will automatically receive your message when he goes online]"  
Below is the example of  One to one chat conversation between two office colleagues: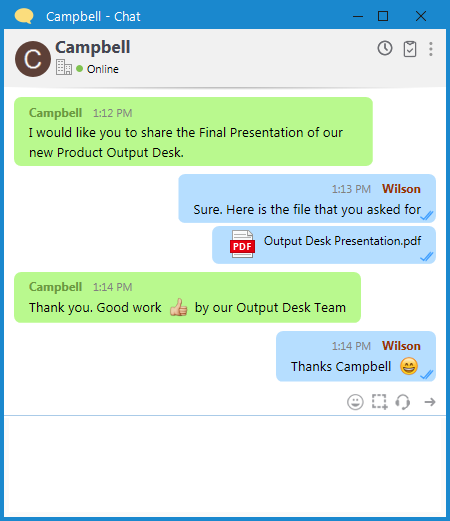 (!) Able to set the chat window frames for one to one chat, for more information, please refer Chat Window Views.
Chat Settings
Go to Settings > Other Options > Chat.
Customize your chat options as your wish.
Click Save or Cancel.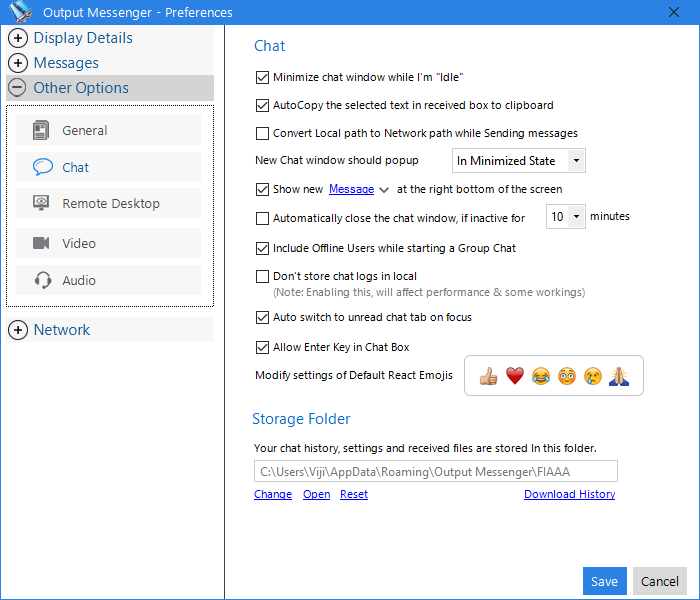 ---
RELATED TOPICS
Group Chat
Custom Group
Chat Room
Hide Users/ Groups
Message Preferences
Chat Commands & Shortcuts
Announcement
Client Views