Technological innovation is indeed important to economic growth and the enhancement of human possibilities - Leon Kass.
Output Messenger is emerging out with features and fixes regarding to version releases. To get the advantages of latest upcoming features, you are recommended to update latest versions regularly.
You can update (Automatic Update) Output Messenger Server and Client, directly from "Output Messenger – Server Manager" using Check For Updates option in General menu.
Note : "Check for updates" option is available from Output Messenger V1.1.0 and above.
Check For Updates on Server
To check whether there is any update, just click the link "Check for updates" exists under Information heading in Output Messenger – Server Manager > General settings.
If you already have the latest version for Server and Client, you will get the message "You are using the latest version".
If new version is available, you will get notification for Server/Client with button to Download and install/push as the below screenshot. We have to update the Server first & then, the client update option will be enabled.
Updating Server:
On clicking Download & Install Server, latest version Server patches will be downloaded from on-line & update the existing files. Your existing data will be preserved & you can continue using the same.
Updating Clients:
On Clicking Download & Push client, for all the clients, a confirmation box will be displayed like below.

Click Yes to update the client patch directly from your server.
(Note: Requires Administrator privilege to install the updates. For offline users, on their next login they will get the confirmation window.)
Check For Updates on Client
Client users also can check for latest version in 'Information Menu > Update Client From Server'.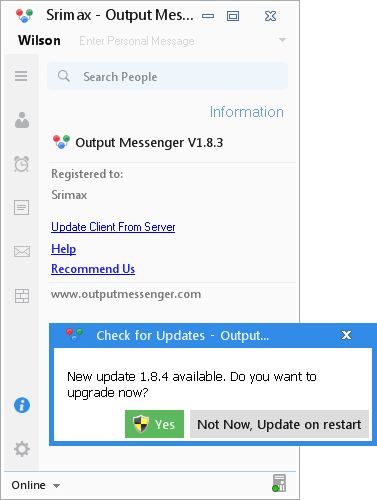 This will check for latest available Client version downloaded in your Server and update it.
Update Output Messenger regularly and enjoy Enhanced Chatting features.