Announcement is the formal public statement. Users can send announcements (like meeting, function) to a group or to users. But the recipient cannot reply back to announcements.
Two essential methods to send an announcement effectively:
Group Announcement.
Single Announcement.
Group Announcement
It intends to send the announcement for particular groups.
Right click the group name list and press the Group Announcement, as so: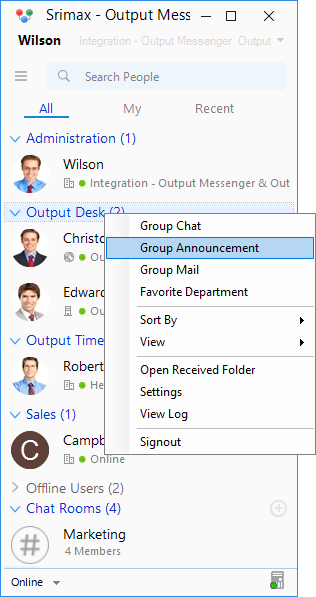 In the Announcement page,
To address → The selected group users is automatically added in TO address. You want to add additional users, simply press the To button, here you can able to choose users/groups to send your announcement to the recipients.
Content Area → Fill out the desired content with styles using the editor. Attach the files using the Attach icon. You can able to remove the attachment (right click the file > Remove the file).

Auto close → Tick the Auto close announcement option, to specify the time you wish the alarm to go on till. Close that Announcement pop-up automatically (in recipients desktop) after a set time.


Once you provide the value, send the announcement using
icon.
Now announcement is successfully sent to groups with the timer. You can pause and play the timer action.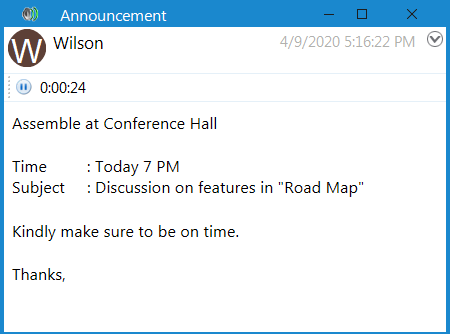 Single Announcement
This proceeds to send the announcement to individual users.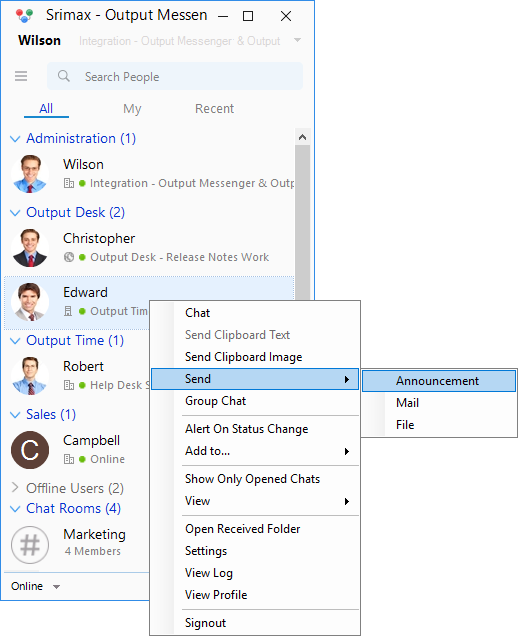 You can respond the announcement using the following options:
Print – print your received announcement.
Save – Save the announcement in your desktop.
Forward – Forward the received announcement to All users, groups, users likewise.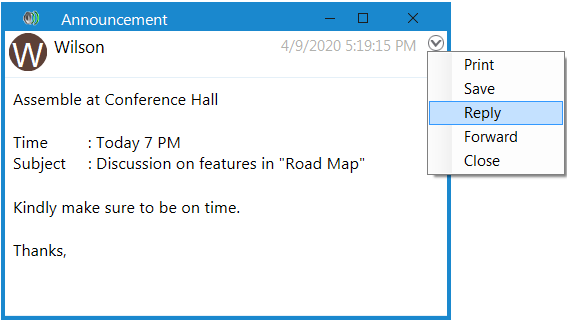 ---
RELATED TOPICS